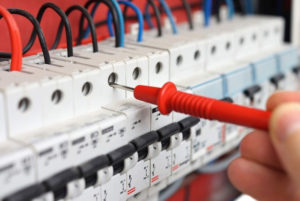 SCOTT PEELE PE is committed to providing the highest quality professional technical training and technical engineering services. Scott brings over 38 years of Power Quality experience from residential to large industrial markets in the electrical industry.  He has worked on all types of controls system from water pumping stations to flight following radar systems.  He has written may papers on motors and has experience with fractional HP motors to motors over 20,000 HP. Scott's courses are designed for participants to understand and solve simple and complex electrical issues with most any electrical systems. Scott's courses are approved by the NORTH CAROLINA STATE BOARD OF EXAMINERS OF ELECTRICAL CONTRACTORS for continuing education credits. Scott also provides engineering consulting services to meet and exceed client expectations. Serving North Carolina since 1976.
Find a class near you & Sign up today!
To register click on the blue links below.
No Events
Scott Peele has approved continuing education courses for electricians from the NC State Board of Examiners of Electrical Contractors. ALL OF THE FOLLOWING CLASSES ARE APPROVED. 
APPROVED CLASSES — 
Note: Some classes are 4 hour some are 8 hour. The 4 hour are always back to back on the same day to take advantage of reduced price and 8 hour credit for a full day.